Birds of a Feather
Art by Tracy Guy
'Man must evolve for all human conflict a method which rejects revenge, aggression and retaliation. The foundation of such a method is love.' - Martin Luther King Jnr.
In this painting you will see birds swirling; perhaps fighting, perhaps struggling. The free bird is majestic in the light, higher and gilded in gold. The two below are more fractured, perhaps hurt, angry, possibly pensive.
The white and purple hues surrounding this conflict enhance feelings of spirituality and peace. The message may be that from something negative, we can find something positive. The painting is about setting something free, away from conflict, into peace, into the light.
Description
This picture coffin is beautifully handmade by our master craftsmen and wrapped in a photographic quality image, using the latest technology. The richness of colour and vibrancy of this Expression Coffin is truly stunning.
Ashes Urns
Each of our Expression Coffins is available with a matching ashes urn.
Expression ashes urns are handcrafted to complement each coffin design; they are both beautiful art pieces and functional ashes containers. The felt covered urn base is simply removed for insertion of an ashes container inside. The external sizes of the urns are: W32cm x H15cm x D22cm. Contact us for more information.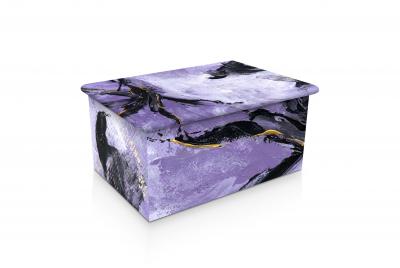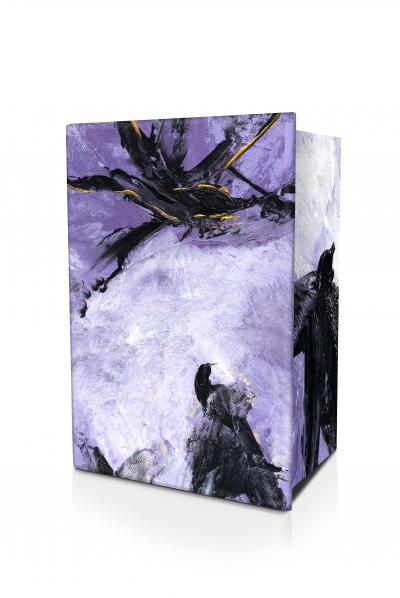 Environment
We offset our use of natural materials by operating our Memorial Tree Program. When you purchase one of our coffins, a memorial tree will be planted on your behalf.
The tree will be planted by the Men of the Trees society, who are a non-profit, non-political group dedicated to the reforestation, maintenance and protection of trees in Australia. Your funeral director will supply you with a certificate explaining the Memorial Tree Program.